Review Buku #4 Divergent by Veronica Roth
Divergent
Veronica Roth
Dalam dunia ciptaan Veronica Roth ini, kita dibagi atas lima fraksi yang didasarkan kepada kepribadian. Yaitu, Abnegation the selfless, Dauntless the brave, Candor the honest, Erudite the intelligent, dan Amity the peaceful.
Meet Beatrice Prior (later known by Tris) from Abnegation.
Ketika aptitude test, Beatrice mendapati dirinya cocok dengan beberapa fraksi sekaligus (called Divergent). Akhirnya, waktu choosing ceremony, Beatrice memilih Dauntless. Dan dia pun meninggalkan Abnegation untuk ikut masa inisiasi Dauntless. Masa inisiasi ini berat banget dan butuh kemampuan fisik yang oke. Beatrice, yang memakai nama Tris sejak bergabung dengan Dauntless, harus berlatih menggunakan senjata dan melawan semua ketakutannya.
Meet Tobias 'Four' Eaton
, instruktur untuk faction transfer di Dauntless. Berani, dingin, intimidatif, tapi akhirnya malah membuat Tris jatuh cinta dan pacaran dengan Tris.
Selain melewati masa inisiasi yang berat dan ancaman untuk menjadi factionless kalau gagal melewati masa inisiasi, Tris juga dihadapkan pada kenyataan kalau ada sati fraksi yang ingin menghancurkan Abnegation. Dan dia juga diwanti-wanti untuk menjaga rahasia kalau dia Divergent karena itu katanya bahaya.
Oke, gue termasuk telaaaaat banget baca buku ini sekarang karena hebohnya udah lama. Dan sekarang lebih heboh lagi karena filmnya akan tayang 21 Maret ntar (baca ulasannya di kaWanku edisi #173 *promo colongan*) dan digadang-gadang sebagai the next The Hunger Games. Karena hampir sama, dengan heroin cewek remaja biasa, distopia, menghadapi kekuasaan dan tiran lalu ada perang.
Awalnya gue skeptis dengan buku ini. Berdasarkan pengalaman gue dengan bacaan fantasi gue selama ini yang menurut gue high quality, gue enggak berharap terlalu banyak dengan Divergent. Ketika disandingin dengan THG, gue penasaran. Karena THG itu keren banget. Dan berhubung anaknya FOMO, jadilah baca dulu sebelum nanti nonton filmnya.
Surprisingly, I'm falling in love with Veronica's writing style. To the point
dan lugas. That's why I love it. Dan ini yang jadi faktor penentu kenapa gue bertahan.
Karena ceritanya sendiri menimbulkan banyak pertanyaan. Premisnya oke, tentang kehidupan di masa depan. Tipikal distopialah. Dan gue suka dengan premisnya. Cuma agak terganggu dengan eksekusinya. Dari awal sampai ¾ bagian itu terasa lamaaaa banget. Kita ngikutin gimana masa inisiasi Tris. Seakan-akan kita diajak untuk berpikir kalau semua isi buku terpusat ke perjuangan Tris adaptasi dengan kehidupan Dauntless yang beda banget dengan Abnegation.
Ternyata, ada twist di seperempat akhir. Puncak cerita. Perang di mana-mana. Dan ini terjadinya mendadak. Lalu alur berubah cepaaaaat banget. kontras bangetlah dengan alur ¾ awal buku. Saking cepatnya, ada beberapa bagian yang kurang penjelasan. Ini bikin gue gregetan. Positive thinkingnya adalah, semoga ada penjelasan nanti di buku selanjutnya. Karena menurut gue kemungkinan cerita dikembangin itu banyak banget.
Dan yang bikin gue gondok setengah mati adalah adegan sadarnya Four. Jadi ceritanya Four ini sedang di bawah pengaruh si tokoh jahat dan dia enggak bisa ngebedain mana teman mana musuh. Ketika hadap-hadapan dengan Tris, dia bermaksud bunuh Tris. Tris yang harusnya, normalnya orang berpikir adalah, membunuh Four karena nyawanya terancam malah diam aja, sambil ngebathin minta Four buat sadar. Dan jeng jeng jeng, Four sadar aja gitu. Dan ngomong "I just heard your voice." Man, ini novel action kok malah di adegan sepenting ini jadi cheesy banget?
Dan kemudian mereka mesra-mesraan. Gue ngelihatnya sebagai anak yang selama 16 tahun dikekang dengan banyak aturan enggak boleh ini enggak boleh itu, lalu saat dilepas jadi bablas. Nah Tris gitu. Di Abnegation dia enggak boleh nunjukin diri sendiri, enggak boleh menonjol. Eh pas masuk Dauntless langsung aja mesra-mesraan.
Jujur gue terganggu dengan adegan cintanya ini.
Dan enggak nemu aja gue awal-awal tumbuhnya chemistry.
Tapi itu enggak membuat gue berhenti di buku satu. Secara anaknya anti berhenti di tengah-tengah kalau baca serial, tetap lanjut ke Insurgent, buku kedua. Sambil berharap semoga banyak jawaban yang gue temuin di sini. Dan so far gue baca Insurgent lebih lancar. Sampai udah di tengah-tengah, gue suka. Karena alurnya teratur. Dan lebih banyak aksi. Reviewnya menyusul yak abis selesai baca.
But most of all, I can't hardly wait to see this movie.
Soalnya ada Ansel Elgort di sana, mwehehehe. Plus ternyata yang jadi Four cakep bingit kak. Si Theo James. Sukak.
This is dedek Ansel as Caleb Prior. Sukak.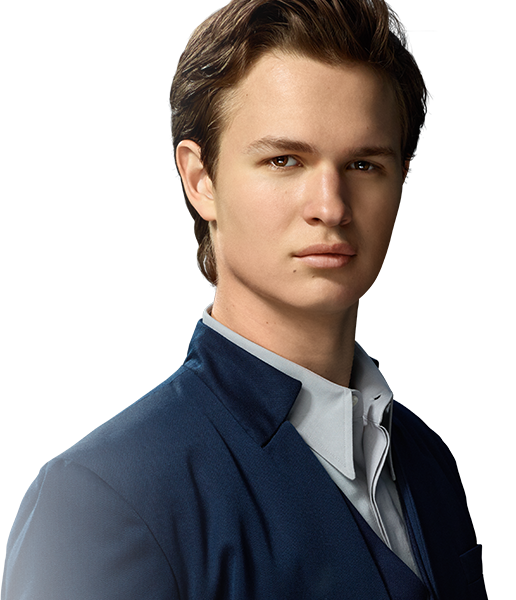 A
And this is Tobias 'Four' Easton. Mas macho ganteng, Theo James. Sukak.