[Indonesia Romance Reading Challenge] #44 Lost & Found oleh Sisca Spencer Hoky
Lost & Found
Sisca Spencer Hoky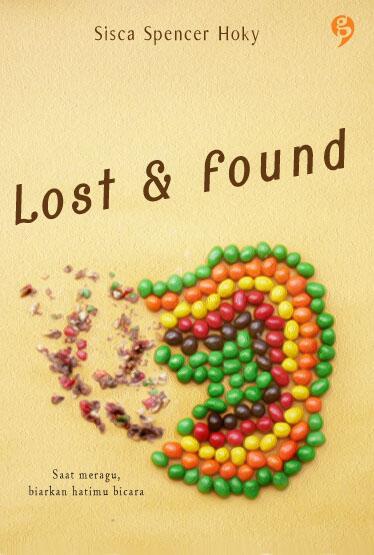 Jane yang sedang nge-gym merasa mendapat perhatian berlebih dari cowok blasteran super ganteng yang ada di gym yang sama. Setelah beberapa coincidence yang mempertemukan mereka, mereka pun akrab. Dan Chris terang-terangan menunjukkan kalau dia suka sama Jane. Hanya saja Jane ini yang awalnya kegeeran akhirnya malah salah menafsirkan kode sehingga menganggap Chris hanya mau berteman. Apalagi Jane masih dibayang-bayangi mantan pacar yang sepertinya cinta pertamanya juga, Xander. Tapi, Chris pun akhirnya dekat dengan Jane. Malah, dengan orangtua Jane juga. Intinya, Chris ini tipe cowok yang kapanpun Jane butuh dia akan selalu ada.
Tapi sayangnya, sepertinya Jane belum siap dengan perhatian itu. Dan, dia pun melepaskannya.
Oke, itu kata pertama novel ini dan langsung memikat gue karena Eleventh Doctor suka menyebut kata itu *oke abaikan* tapi lama kelamaan gue larut dalam ceritanya. Hal pertama yang gue tandai banget adalah, I like her writing. Lugas dan enggak mendayu-dayu, tipe bacaan gue banget. Jika dilihat dari cerita, sebenarnya, sih, simple. Simple banget malah. Tapi, karena gaya berceritanya udah menarik perhatian gue jadi gue enggak bisa lepas dari buku ini.
Konfliknya gue rasa pas. Penempatan masalah Xander di antara Jane dan Chris pas banget, sehingga gue enggak merasa terganggu dengan kehadiran cinta di masa lalu ini. Malah Xander bisa menjadi jembatan antara Jane dan Chris. Gue suka ketika Jane tanpa sadar mulai membanding-bandingkan Xander dan Chris. Realistis banget tindakannya. Pun ketika Chris ditolak Jane. Gue bakalan ilfil kalau Chris sok-sokan lapang dada saat itu. Meh, mana ada cowok di dunia nyata yang begitu? Syukurlah Sisca menampilkan reaksi Chris yang sewajarnya akan dilakukan cowok lain jika dia berada di posisi Chris. Two thumbs up.
Mungkin sedikit keberatan gue adalah di karakter. Deskripsi karakter minim banget. Puluhan halaman berlalu dengan gue yang bertanya-tanya, ini Jane sama Chris udah kerja apa gimana, sih? Terus sosok mereka tuh seperti apa? Sayangnya penjelasan ini baru ada di tengah-tengah di saat gue udah enggak mood lagi mau tahu mereka kayak gimana. Dan ternyata mereka masih kuliah tapi enggak detail pendukung hal itu. malah aktivitas kampus dikit banget, serasa kayak tempelan aja. Sayang aja, sih, secara penulisannya dari awal udah bagus. Dan, oh ya, tokoh Chris yang sangat too good to be true. Cukup Maudy Ayunda aja yang TGTBT, gue udah eneg sama cowok-cowok TGTBT di novel, hahaha.
Overall
, sebagai salah satu Gagas Debut, buku ini enak dibaca dan lumayan bagus. Gue yakin Sisca bakalan bisa bikin novel lain setelah ini yang lebih keren. I'll be waiting, Sisca.
Dan yang paling penting, tiap lihat novel ini, bawaannya mau makan Chacha terus hahaha.